How is Wearable Art Clothing Important to the World?
How is Wearable Art Clothing Important to the World?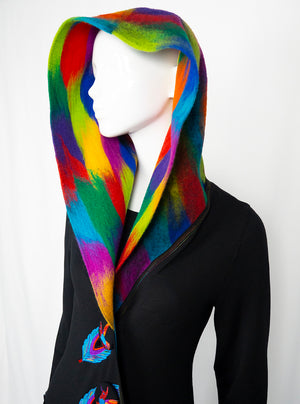 As an artist and maker, I strongly believe that wearable art clothing plays a vital role in the world today. Clothing is not just a basic necessity, but it also reflects an individual's personality and artistic expression. Wearable art allows me as an artist to create unique pieces that are not only visually stunning but also serve as a form of self-expression for my customers. Wearable art clothing allows individuals to showcase their individuality, creativity, and personal style in a way that traditional clothing cannot.
     Wearable art clothing is also important because it challenges the traditional notion of fashion. The fashion industry is notorious for its unsustainable practices and fast fashion culture, where clothing is designed to be worn for a short period before being discarded. Wearable art, on the other hand, is created with longevity in mind. Each piece is a unique work of art that is designed to be treasured and worn for years to come. Wearable art encourages consumers to shift their focus from fast fashion to slow fashion, which is more sustainable and eco-friendly.
     In summary wearable art clothing gives us the opportunity to become art, celebrating our individuality with the world. Overall, wearable art clothing is not just about fashion, but it is also about creativity, originality and sustainability.